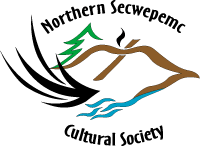 FRIENDS
NEWSLETTERS

2020
---
2018
---
2017
---
2016
---

BOARD OF DIRECTORS
Kerry Chelsea—President
Irene Gilbert—Vice President
Harold Duncan—Treasurer
Graham Leslie—Secretary
Laurie Ilnicki—Director
Sheri Sellars—Director

NORTHERN SECWEPEMC CULTURAL SOCIETY
P.O. Box 553
108 Mile Ranch, B.C.
V0K 2Z0
Canada

Tel: 250.791.7267
grahamleslie@shaw.ca

FRIENDS OF THE PROJECT
PATRON
The Hon. Michael Harcourt

BUSINESSES
Cariboo Geographic Systems
Cariboo Regional District
Chris Harris Photography
District of 100 Mile House
Durfeld Log & Timber
Graham Dunden Guest Ranch
JN Web Design
Mount Polley Mining Corporation
100 Mile House Free Press
RBC Royal Bank – 100 Mile House
S Cariboo Chamber of Commerce
Tolko Industries Ltd.
INDIVIDUALS
Graham Adams
Guy and Myra Aggiss
Clayton Beharrell
Gilda Bernath
Barrie and Ann Bolton
Linda Corr
William Crawford
Keith and Kris Dobyns
Joyce Dyck
Arlene Dahl
Trudy and Chris Foster
Billy Feistmantl
Patti Freeman
Rita Giesbrecht
Susan Harding
Chris Harris
Margot Harris
Peter Howard
Margaret Sharon
Nigel Hemingway
Beverley Iverson
Karen Johnson and Tom Puckett
Rick and Liz Jones
Barb MacLeod
Dave Macleod
Bruce Madu
Gisele Marion
Fay Martens and Jacob Smith
Ed Martin
Jerry and Nicola Maughn
Rainer and Ingrid Meyer
Shelly Morton
Gail Moseley
Dick Nichels
Brad Paulson
Leslee Picton
Tom Puckett
Lisa and Brian Pugh
Laura and Russ Rezansoff
Brent Rutherford
John Schuurman
Ann Swann
Jack Witty
Janet Wright

DONORS & SPONSORS
108 Resort
Arcada Rentals
Bank of Montreal, 100 Mile House
Brent Rutherford
Calija Log & Timber Homes Ltd.
Canada Safeway
Delores Hustwait & John Tutte
Graham & Lisa Leslie
Heartland Toyota
Hub Intl. 100 Mile House
& Williams Lake
John & Barbara Hooper
McDonald's
Mount Polley Mining
Nigel Hemingway Land Surveying
OK Tire & Auto Service,
Williams Lake
Pharmasave, 100 Mile House
RBC Royal Bank
Regency Chrysler
Sandman Inn
Save-On-Foods
Sunrise Ford
Sitka Log Homes Inc.
The Coast Fraser Inn
Tim Horton's, 100 Mile House
Utd. Steelworkers of America,
Local 1-425
West Fraser Mills Ltd.
Williams Lake & District
Credit Union, 100 Mile House
Williams Lake & District
Credit Union, Williams Lake

FRIENDS OF THE PROJECT

On behalf of the Chiefs and Councils of the five Northern Shuswap Indian Bands, the directors of the Northern Secwepemc Cultural Society are inviting individuals and organizations to support their ongoing initiative by subscribing as a Friend of the Northern Secwepemc Cultural Society's Cultural Centre and Museum Project.
This invitation is extended not only in the belief that evidence of widespread support from within the community will be an asset when applications for funding are submitted to the senior levels of government, but also in the hope that community members will become more aware of our project and will follow its progress with increased interest.
If you are interested in giving your support to our plans to build a cultural centre/museum at the 108 Mile Lake, please complete this form and return it to the address as indicated. If you would also care to make a donation to our building fund at this early stage, please either use one of the donation buttons on this website or enclose your contribution in the same envelope, noting that the NCSC has been granted charitable status by the Canada Revenue Agency so that, if you so request, an income tax receipt will be mailed to the address you provide.
We take pleasure in listing our Friends on this web page, and hope to be able to update the list from time to time.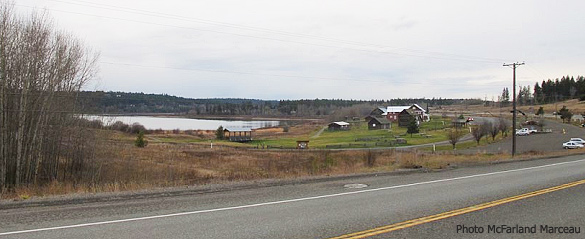 Looking towards the site, heading north along Highway 97
THE BRIDGE-BUILDING CAMPAIGN
The Schematic Design envisaged by our architects McFarland Marceau, and embraced by our members, calls for a bridge to cross Sucker Creek and provide pedestrian access to our site from the Government rest area at the 108 Mile Lake.
Originally this bridge would have been designed and built as part of the overall construction project, once we had raised the funds to proceed to that stage.
However, in the course of the surveying work and other minor projects that were carried out on the site in early 2014, we became aware of the fact that a number of thoughtless ATVers and snowmobilers had, for some extended period of time, been traversing Sucker Creek by creating a short cut through the bed of the Creek, and in so doing had caused significant damage to the banks and the bed of the Creek.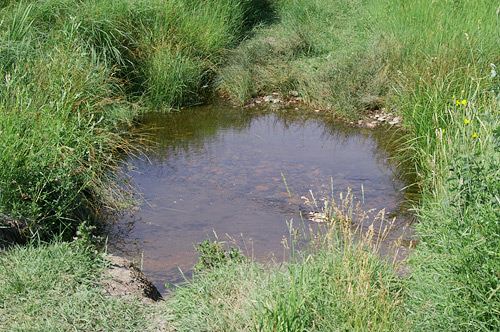 With support from the 108 Greenbelt Commission, the CRD's Area G Director, the 100 Mile Snowmobile Club and officials of the Ministry of Transportation and Infrastructure, we decided to try fundraising from the business communities of Williams Lake and 100 Mile House in order to proceed with the design, engineering and, if funds permitted, the construction of a modified bridge and trail that would encourage the ATV and snowmobile traffic to cross the Creek by means of our bridge.
If we succeed in raising the necessary funds, we will construct the bridge independently of the main construction project, and allow the bridge to stand as a monument to the generosity of the local business communities, and the cooperation between the First Nations and the non-aboriginal people of the region.
In June of this year, we applied to Business for the Arts that administers a program named ArtsVest and provides matching grants to qualified cultural and arts groups for businesses that agree to sponsor a specific project. In early August, we learned that we had qualified for matching grants to a maximum of $5,000, and by the end of that month we had received pledges amounting to more than $5,000 in cash sponsorships, more than a further $1,000 in in-kind pledges, with several more businesses in the Williams Lake and 100 Mile House areas keeping our requests under active consideration. Those who have agreed to contribute, in one way or another, are listed on this page.
In late August, we commissioned McFarland Marceau to commence the design and engineering work and to provide us with an estimated cost of construction, and received their report in mid-September.
In the meantime, we are applying to the New Pathways to Gold Society for a grant, and we continue to follow up with our solicitations of local businesses in the hope of acquiring the additional funding to permit construction of the bridge to proceed, most realistically in May 2015 when weather permits.